Happy 153rd birthday, Canada!
While we most likely know that Canada Day is also known as Canada's birthday, did you know these other interesting facts about the birth of the country we live in? While originally celebrated by the ringing of bells at the Cathedral Church of St. James in Toronto, over the years, Canada Day has been observed throughout the country in many different ways, usually as outdoor events including concerts, parades, carnivals, fireworks, barbeques and more!
Don't Forget About COVID – Maintain Proper Social Distancing this Year
Speaking of barbecues, it's definitely one of my favourite ways to enjoy this special holiday. Between the food and social aspect of them, I find there's no better way to spend the day.
We would like to kindly remind you that there is still a pandemic going on and to celebrate safely this year. Gatherings that involve large groups of more than 10 people are not only not allowed – but will help prevent the further spread of COVID-19. That doesn't mean we can't celebrate Canada Day in a safe way! Thankfully here at Nature's Emporium, we have some pretty amazing products to bring life to your barbeque party, even though your party is a lot smaller.
Canada Day Recipes
It wouldn't be a Nature's Emporium Thriving Thursday Blog, without some appetizing recipes to go along with it, all with a Canadian flare for this special entry! First on our list, is a Canadian classic – the Caesar Cocktail! Traditional brands of Clamato Juice contain MSG (monosodium glutamate), which is a flavour enhancer and while to some it may be seemingly harmless, others can experience nasty side effects of consuming it, including but not limited to headaches, drowsiness and numbness and tingling in the body. That's enough for me to want to stay away from it and thankfully Walter's has created a Clamato Juice without the use of MSG! Check out the recipe below and enjoy on Canada Day or throughout the summer on hot days!
Want to add a little red and white to your Canada Day festivities? We have prepared not one, but two appetizers that are red and white themed and sure to make your taste buds sing! Our first recipe is a Caprese Bruschetta that is made with sweet cherry tomatoes and fresh Buffalo Mozzarella. If you're wondering, yes it is made from buffalo milk and not your traditional cow's milk, which is part of the reason why the texture and taste is different. This mixture is complemented with fresh herbs and spices and a toasty organic baguette (don't worry, if you're gluten-free we have options available in store for you as well)! Try out this simple, yet delicious app and let us know what you think!
Second on the appetizer list is our tasty and tart Lemon & Dill White Bean Dip Can I just say, if there's one thing that reminds me of the summer, it's fresh lemons and herbs and this dip has both! Not to mention it's packed with nutrition including protein and fibre rich due to the cannellini beans. The roasted garlic adds a mild and sweet garlicky taste to the dip which rounds out the flavours of the lemon and dill. To add a little red flair to this Canada Day appetizer, we've paired it with R.W. Garcia's Red Beet Crackers which are so tasty on their own but also compliment the dip perfectly!
Does anyone else feel like Watermelon is the fruit of the summer? And it's with its reddish colouring, it makes for a perfect dessert option for Canada Day! Instead of just serving Watermelon slices and whip cream, we've stepped it up a notch and made this sweet and juicy fruit into a fun cake idea! Between using So Delicious Dairy Free Coconut Whip and getting natural sweetness from the fruits, we've made this a guilt free pleasure everyone can enjoy over the holiday!
We hope you enjoy and take advantage of these tasty, delicious and easy to prepare recipes for Canada Day! If you recreate them on your own, we'd love to see the results – tag us @naturescanada! On behalf of our Nature's Emporium Family, we hope you and your family have a safe, happy and healthy Canada Day!
More from #ThrivingWithNatures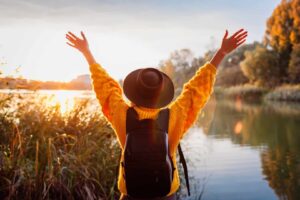 It's officially autumn! Time to put on your coziest sweater…
Read More