August is Time to Stock up on Back-To-School Essentials
Be proactive this back-to-school season by creating a health and wellness regimen that fits in with keeps your little ones feeling energized and healthy throughout the school year. At Nature's Emporium, we offer a wide selection of vitamins, supplements, and herbs for the entire family's needs.
Here are five expert tips that will help support immune health, boost cognitive function, and provide sustained energy throughout the day.
Incorporating Omega-3s into Your Child's Back-to-School Health Regimen
If you're looking to improve your child's overall health and boost school performance, omega-3 fatty acids are critical. These healthy fats are essential for the healthy development of children. In addition to boosting immunity, they are also known to improve learning, memory, and brain development. Since the body cannot produce omega-3s itself, it is crucial to find ways to include them in your diet.
Fatty fish such as salmon, mackerel, and sardines are loaded with omega-3s and are great lunch or dinner options. If your little one is not a fan of fish, however, there are many other plant-based options such as chia seeds, hemp seeds, flaxseeds, and walnuts. Taking a supplement once a day is another way to incorporate omega-3s into your child's routine.
At Nature's Emporium, we offer a wide selection of omega-3 supplements formulated for kids as a simple way to ensure they are getting enough fish oils daily.
Supporting Your Child's Immune System for Going Back-to-School
It's essential to prevent the spread of germs and sickness around the school. While one of the most effective ways to avoid germs is washing your hands properly, there are other ways to protect your child from the inside-out. In addition to good hygiene, it's also essential to support the immune system by eating a proper diet and taking the right supplements.
St. Francis Farms Deep Immune for Kids is a daily supplement formulated with herbs to naturally shield and prevent viral infections, colds, and flu. These herbal formulas and our other immune-boosting gummies and chewables use natural properties loaded with vitamins, minerals, and antioxidants to protect your child's health.
The Benefits of Probiotics for Children Going Back-to-School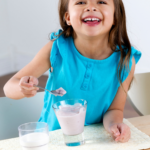 Probiotics are healthy bacteria with several health benefits for your digestive and immune systems. Adding probiotics to your daily routine improves digestion, reduces gut issues, and prevents infectious diseases. To incorporate probiotics daily, a child should take a supplement or eat fermented foods rich in probiotics.
Some foods that can be added to your child's diet include yogurt, kefir, sauerkraut, tempeh, miso, kombucha, and pickles. If a daily supplement is preferred, there are many options for probiotics formulated with active cells to support kids' everyday digestive health. For an easy and quick boost, take a probiotic supplement with breakfast, make your child a yogurt parfait, or add yogurt to their smoothie to start their day off right!
A Balanced Diet for Optimal Back-to-School Health
Eating well means living better. Now this one seems obvious, right? But we can't stress it enough. Eating the right way for your child to be healthy and happy is critical. School performance, energy levels, and immunity are all improved with a well-balanced diet that includes carbs, protein, healthy fats, and plenty of fruits and veggies.
Eating various colourful fruit and vegetables (or "eating the rainbow") ensures your child gets enough vitamins, minerals and fibre. Encourage your child to try new foods, and challenge them to try a different colour vegetable daily. In addition to fruits and vegetables, eating a sufficient amount of protein and a few healthy fats will help keep your child feeling full and energized throughout the school day.
Make your kids a well-balanced breakfast and pack them a nutritious lunch to keep their brains going and bodies moving! And if you're running short on time, pick up a few of our freshly prepared grab-n-go sandwiches, wraps, or salads for their next lunch. All of our grab-and-go items are prepared fresh in-house with organic vegetables!
Make Sure The Children Get Enough Sleep (Especially on a School Night!)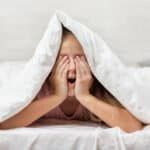 Sleep is equally as important as diet and exercise at a young age. Kids' minds and bodies are growing, and a good night's sleep is the perfect foundation for a busy day ahead. With the proper amount of sleep, children are more energized, have a more robust immune system, and perform better at school.
Most kids need eight to ten hours of sleep a night. If your child is having trouble sleeping, help them by turning electronics off before bed and encouraging calm activities like reading or meditation. With a good sleep and adequate time for growth and repair, your child will be ready to take on the day!
Back-to-School Health Tips: Shop Now
Now that you know some of the best ways to keep your family healthy and energized this back-to-school season, it's time to get shopping! Our experts at Nature's Emporium are here to help you find the right products for your needs.
Visit our online store or stop by one of our locations today and start taking charge of your health!
More from #ThrivingWithNatures