We've been committed to sustainable, healthy living with natural, local organic food, vitamins, supplements, gluten-free, natural make-up, skincare, home-care and more for over 20 years! Discover our journey, and find out how you can join in as we write the next chapter together!
Nature's Emporium was established in 1993. Our goal? To introduce and support a healthy and natural lifestyle within our community. We continue that journey today, providing you with the world's best natural and organic foods, vitamins, supplements and more – from our family to yours!
We believe that good health begins on farms that grow in partnership with nature! That's why all of our fresh produce is always certified organic. We're committed to sharing our passion for Nature's best with you in-store every day. We invite you to come for a visit and explore!
Find Your Nature's: Let Us Join You on the Road to Good Health!
At Nature's Emporium, we believe that good health begins on farms that grow in partnership with Nature. That's why we've dedicated our family-owned health food market's to the goodness of farm-fresh, always organic fresh produce, natural and organic freshly prepared foods and grocery, a vibrant juice bar and cafe, the world's finest vitamins and supplements, as well as an incredible variety of all-natural and organic skincare, cosmetics and personal care supplies safe for the whole family (baby too!). We invite you to explore our stores - and join us on the road to good health!
Find Great Specials and See What's On Sale at Nature's Emporium!
Explore the road to good health and save on your favourite natural and organic foods, grocery, gluten-free, artisan cheese, ethically sourced sustainable meat and seafood, vitamins & supplements and whole body care!
Empower Your Inner Healer at Our In-Store 'Living Room' Wellness Events!
Every month, we host the world's most respected wellness experts at our in-store 'Living Room' lecture halls. The goal? To help you eat well and live better, by sharing everything from the latest alternative therapies for natural healing, lead by women's health experts like Lorna Vanderhaeghe and Julie Daniluk to cooking classes hosted by celebrity chef's, designed to help you get excited about getting back in the kitchen. Come and experience a 'Living Room' event for yourself!
Join a Holistic Nutritionist on a FREE Store Tour!
Our team of Registered Holistic Nutritionists On-Duty will help you make the most of your visit to Nature's. Your free 1-on-1 store tour includes helpful nutrition tips, dietary advice for those dealing with food sensitivities, plus the inside scoop on must-try products! 
Enjoy Healthy Tips, Natural and Organic Recipes and More!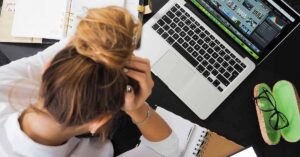 The changes stemming from the pandemic have been stressful for many Canadians. According to Statistics Canada, 46 percent of Canadians say their perceived stress level is somewhat or much worse…
Explore more healthy tips, recipes and more!
Explore our blog for simple, delicious ways to boost your wellness.