Sandwiches – our easiest to-go meal. With all the required ingredients to a healthy balanced diet and the ability to customize it to your own liking!
Who doesn't love a tasty, nutritious sandwich? Canadians eat approximately 3.6 billion sandwiches a year! Thanks to John Montagu, the 'inventor' of the sandwich, everyone gets the delicious experience of the world's most portable meal.
Now for the meat of the story…
BBQ Pulled Jackfruit Sandwich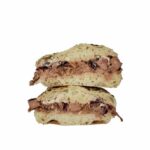 Who doesn't love a good pulled pork sandwich? A classic in its own right. Now, imagine the flavours of the perfect pulled pork sandwich – but vegan. Red meat often has a reputation for interrupting our physical health when highly consumed. But that doesn't mean we have to compromise our taste palette ultimately. Enter the jackfruit! We were well known for its flavour and amazingly unpredictable knack of mimicking meat textures. We just had to create a BBQ Pulled Jackfruit Sandwich. Place your bets on if you can even tell it's vegan!
Ham & Brie Sandwich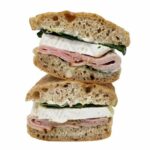 Ham and cheese is a real crowd-pleaser. Think of ham and cheese sandwiches as the friendly neighbourhood hero that's disguised as something so simple yet, is extraordinarily tasty! We've taken this simply superior sandwich and added a twist by using brie cheese instead of the traditional sliced cheese, elevating your sandwich experience. Grab our Ham & Brie Sandwich, made in-house to deliver a light but filling meal on the go.
Roast Beef Ciabatta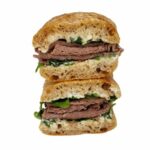 What do you call overcooked beef? A misteak. But all buns – sorry, puns aside, you wouldn't be making any mistakes trying our Roast Beef Ciabatta Sandwich. Kept with the integrity of the traditional and tasty roast beef sandwich but elevated on a crunchy yet fluffy – and not to mention yummy – ciabatta bun. If you're looking for a meaty and filling sandwich, this is the one!
Turkey Club Panini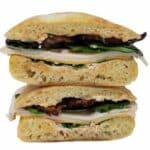 As a staple in the sandwich world, turkey sandwiches need to be done right. It is known as a healthy sandwich option, but this time it doesn't necessarily have to taste all that "healthy". We made sure of this when we created our Turkey Club Panini Sandwich. Carefully stacked between a panini bun and all the fixings, our take on the turkey club won't be the same as other turkey clubs you may have had before. Rightfully so, this sandwich veteran deserves to be highlighted with its peers in recognition of National Sandwich Month.
Sandwiches are a great meal. They're quick, nutritious and customizable for the individual tastes of those eating it! Get your fix today by coming in-store or ordering online at any time. Which delicious sandwiches have you enjoyed lately?
More from #ThrivingWithNatures