School is back in session starting next week! Whether you're planning on sending them back to school or keeping them home for virtual learning or homeschooling, one thing is for sure, your kids are going to be hungry. Trying to find recipes for snacks that your kids will want to eat and are healthy for them can definitely be a real challenge.
We wanted to share some easy, yummy in the tummy and nutritious after school snacks in continuing with our back to school blog series. These recipes will help tie your children over when they get home from school before dinner is on the table! Imagine less rummaging through the fridge and cupboards, or less snacking on junk food.
While food prep can be something we all dread in our busy lives, it's an essential aspect of eating well and being organized for the week ahead. You could perhaps spend some time prepping some snacks and meals. That will reduce your stress levels during the week. As if weekdays weren't stressful enough, right?! You have to do the same routine every day, and where can anybody find the time for added meal prep? You may want to consider the benefits of doing it on a Sunday. Your kids will likely be home with you, meaning and should be able to help. Even if this is not the case, it is always good to make use of your downtime.
We've previously mentioned in our first Back to School Blog how getting your kids involved in the kitchen early will have lasting positive effects on their wellbeing. It will encourage them to have better eating habits starting at a young age, which helps carry that through the rest of their lives. With that all said, check out the recipes below for Chocolate Zucchini Protein Muffins, Lentil Cookies, No-Bake Cereal Bars and Chocolate Banana Chia Parfaits.
Zucchini Protein Muffins
Up first is our Chocolate Zucchini Protein Muffins because most kids love chocolate!
We've amped up the nutrition from your traditional chocolate muffin by adding in zucchini. It's a top veggie for hiding into foods, since it's taste is usually masked by other flavours. And for this recipe, adds a ton of moisture.
We've also included our new Nature's Emporium Kidstar Cosmic Protein Powder. Our protein powder 10 grams of plant-based protein from both pumpkin and pea sources and contains three grams of prebiotic fibre. It also includes ingredients like marine algae, organic spinach, broccoli, carrot, sweet potato, orange, apple, strawberry, banana, papaya, shiitake mushrooms and sunflower seeds. That way, you know they're getting their servings of fruits and veggies from it as well! An added bonus- it's sweetened with stevia, so it contains no sugar.
Little helper opportunity: have your kid(s) help you make this recipe. They can grate zucchini, measure out the ingredients, and clean up the dishes. Therefore these muffins are easier on you to whip up for the week!
Lentil Cookies (you won't even taste the lentils)
Lentils in cookies? You're probably thinking we're insane. But don't knock 'em til you try 'em. These take a bit longer to prepare-so it may be best to make a double batch and freeze a batch. That is if you and your family don't eat them all, however. You need to try this recipe.
They require making a lentil puree. You can either use canned lentils or prepare dried lentils and combine them with water in a food processor to create a lentil puree. Easy!
Why are adding lentils to cookies anyway? Well, lentils are protein powerhouses. They also help keep your belly full for more extended periods, which traditional refined cookies don't do. Pretty cool, huh?
If your kid has never tried lentils before and you think this will be a hard sell? Try it once. With all the other ingredients included in them, you won't even taste the lentils!
If you are still worried that your kid might not want to eat them. Don't worry, we've added No Whey Choco No No's! They are colourful and fun addition to this recipe, making them more appealing to kids (and adults) of all ages.
Also included are oats and spelt flour. Making these an overall deliciously nutritious cookie that you will feel confident feeding to your kid after a long day at school.
Healthy Cereal Bars
Most cereal bars are full of junky ingredients. Junk food will have little to no benefit for your kids' health and wellbeing.
Ingredients to watch out for: corn syrups and additives and preservatives that may make them tasty-but do not give our bodies anything. These ingredients hinder our health.
We've taken the idea of a cereal bar and healthified it so that you feel good feeding this to your children regularly. They are so easy to make that your kids might even be able to prep these all on their own (with supervision from you, of course).
We've once again included the Kidstar Protein Powder. There's nothing worse than buying a supplement and not having multiple ways of incorporating it in your routine so that it expires before you use it all.
Once again, you'll get all the wonderful benefits of this protein powder. We've chosen to use Made Good's Cocoa Brown Rice Cereal Crisps. They include a serving of fruits and veggies and are free of the most common allergens.
All in all, this No-Bake Cereal Bar recipe is a win-win in terms of whipping up and tasting great!
Chocolate and Banana Parfait
Chocolate and banana are like peanut butter and jelly, or spaghetti and meatballs. They're two peas in a pod that go hand in hand. That's why this Chocolate Banana Chia Parfait is so delicious. We think it will become a regular recipe to make in the home!
Once again, our Kidstar Protein Powder makes an appearance. Now you'll know exactly how you can use it when you bring it home. Plus, there's all the added nutritional benefits of incorporating into this already very healthy afterschool snack!
In addition to the goodness coming from the protein powder, we also made this parfait using chia seeds to make the pudding-like base. Chia seeds are so crucial for keeping your bowel movements regular. This is due to the high amount of fibre, omega-3's that are anti-inflammatory, and a high amount of calcium and magnesium. There is also a fair amount of protein in them, which can be challenging to get into kids if they are a picky eater! It's also topped with a probiotic-rich coconut kefir by Healing Spirit and allergen-friendly Made Good granola that makes this a win for both you and your kids!
As an additional note, we have made many of these recipes as school-friendly as possible. Depending on your individual school guidelines and restrictions, these might even be snacks you can confidently send with your children. That way, you know they are being nourished throughout the day and not come home with a lunch box filled with half-eaten things, yet yelling at you that they're starving. If they do, voila! You have these great snack ideas to feed them!
What are some of your favourite snack ideas to feed your kids? Let us know in the comments below or tag us on social media @naturescanada.
More from #ThrivingWithNatures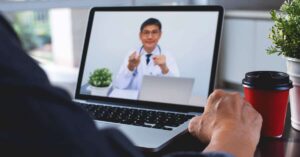 It's 2021, yet the cliché about men neglecting their health…
Read More