The Nature's Emporium SL5K Virtual Challenge is just around the corner! If you are participating in this important community event, we have the info you need to help fuel your fitness.
Choosing the right foods can make a tremendous difference in your energy and performance.
This is how it works:
Optimum Nutrients From Organic "Real" Foods + Optimal Functioning of the Body's Cells + a state of Balanced Health Highest Level of Physical Fitness = Crushing Your Goals!
Athletes have always been looking for that competitive edge to be successful and help them exceed their limits. Early records of ancient Olympians show that they understood the connection between diet and performance. For example, from ca. 500-400 B.C. warriors used foods such as deer liver and lion heart to reap the associated benefits bravery, speed and strength to go into their battle. We're not recommending that diet for you! We do have some great foods to reach for when it comes to fueling for fitness and you can find them all at any Nature's Emporium location.
First, let us briefly explain what your body uses as fuel. Carbohydrates are the most efficient form of fuel and is stored as glycogen in your liver and muscles. Fat comes in second as the most concentrated source of energy. Protein is used in late stages of long distance run or extreme circumstances.
When you reach for nutrient-dense organic foods that contain quality carbohydrates, fats and protein that provide you energy, you can never go wrong.
Consider including these fitness superfoods too:
Tart Cherries
Tart cherries are high in anthocyanins (potent antioxidant) more effective than aspirin at relieving pain and reducing inflammation. Try drinking an ounce of cherry concentrate 20 mins before your training session. You can also add cherries to your smoothie. See my Chocolate Cherry Performance Smoothie made with Garden of Life's Raw Organic Fit Protein!
Chia Seeds
Chia seeds have been used for centuries as an energy/electrolyte booster: Try 2 tablespoons Chia seeds combined with one cup water and one freshly squeezed lime for a DIY electrolyte drink.
Spirulina
Spirulina supports the body's ability to preserve glycogen stores and utilizes fat for energy more efficiently. Those who supplement with spirulina before running were able to run an average of 30 percent longer. Spirulina also helps to heal the body, post run.
Beets (and Beet Juice)
Beetroot juice increases runners' endurance during high intensity running by 15 percent. Ideally this juice should be consumed 2 hours before exercise if possible.
Turmeric
Turmeric (the bright yellow spice) contains curcumin, the active compound that has been shown to help reduce inflammation. Add to any dish before or after training.
Fitness Fuel Fun Facts
The average endurance athlete needs a diet consisting of 60% carbohydrates, 15% protein and 25% fat;
You can store about 400g of glycogen in your muscles, and about 100g in your liver
First hour of running: energy comes from glycogen in your muscles
After an hour of running: muscles draw fuel from stored glycogen in the liver.
For low intensity exercise (distance running etc.) glycogen stores can last as long as 90 minutes. For prolonged high intensity exercise, glycogen stores can provide energy for approximately 20 minutes. "Hitting The Wall" is the result of this depletion
Consuming 30-60g of carb from food or a sports beverage every 60 mins can help prevent this sudden energy crash
Sip on a sports beverage every 15 mins from the start of the run
Some studies report that you can get some benefit from swishing and spitting out a sports beverage as carbohydrate begin digesting in the mouth. This sends a signal to your brain that still have energy, which communicates to the rest of your body to move it!
Properhydration is also key for better performance. A loss of more than 2% of body weight impairs performance. Aim to consume for half of your body weight in ounces of water per day. Pay attention to your individual needs and assess what is right for you.
To help you keep fuelled up for the Nature's Emporium SL5K virtual challenge we have three tasty recipes! All include our exclusive Race Kit Sponsor, Garden of Life's Organic Raw Fit Protein Powder!
Apple Pie Protein Muffins
Ingredients
2

cups

oat flour

1

scoop

Garden of Life Raw Organic Fit Vanilla Protein Powder

2

tbsp

Lakanto Classic Monk Fruit Sweetner

2

tsp

Nature's Emporium Cinnamon

½

tsp

ginger powder

½

tsp

baking powder

1

pinch

sea salt

2

Nature's Emporium Eggs

1

cup

plain coconut yogurt

½

cup

organic apple sauce

1

organic apple

diced
For the topping:
3

tbsp

organic pecans

diced
Instructions
Preheat the oven to 375° F.

In a medium bowl, combine oat flour, protein powder, monk fruit, cinnamon, ginger, baking powder, sea salt and whisk together.

In a small bowl, combine eggs, yogurt and applesauce.

Add the wet ingredients to the dry ingredients and mix until fully combined.

Divide evenly into two muffin pans and top with crushed pecans.

Bake for 20-25 minutes or until golden brown.

Let them cool completely and enjoy by spreading some of your favourite nut butter on it!
Pumpkin Protein Balls
Ingredients
For the balls:
4

tbsp

Nature's Emporium Oats

4

tbsp

Garden of Life Raw Organic Fit Vanilla Protein Powder

1

tsp

Nature's Emporium Cinnamon

⅛

tsp

nutmeg

⅛

tsp

cloves

ground

¼

tsp

ginger powder

2

tbsp

Lakanto Classic Monk Fruit Sweetener

1

pinch

sea salt

6

tbsp

cashew butter

6

tbsp

pumpkin purée

¼

tsp

vanilla extract
For the topping:
3

tbsp

pumpkin seeds

crushed

1

tbsp

Lakanto Classic Monk Fruit Sweetener

½

tsp

Nature's Emporium Cinnamon
Instructions
Pulse the oats, protein powder, cinnamon, nutmeg, gloves, ginger, monk fruit and the sea salt in a food processor until you get a powder.

Add the remaining ingredients: cashew, pumpkin puree and vanilla extract and pulse to fully combine.

Transfer mixture into a bowl and roll into balls. Then, roll it into the topping until the ball is fully covered in the topping.

Refrigerate to cool completely and enjoy!
Chocolate Cherry Performance Smoothie
Ingredients
10

oz

unsweetened non-dairy milk

1

scoop

Garden of Life Raw Organic Fit Vanilla Protein Powder

1/2

scoop

Boreal Organic Frozen Tart Cherries

1

medjool date

pitted

1

tbsp

almond butter

1

tsp

Nature's Emporium Raw Cacao Powder
Instructions
Blend all ingredients in a high powered blender and enjoy! 
We are thrilled to partner another year with Southlake Hospital on this very important event for the community, by the community. Our Partnership with the Southlake Foundation started in 2012 evolving from the Run or Walk for Southlake, presented by Nature's Emporium with approximately 1000 participants taking part in 2.5, 5 or 10KM to the present day Nature's Emporium Run for Southlake with over 1900 participants completing 5KM. This event has since evolved into one of Southlake's biggest annual signature events and become a fixture in our community, with the first ever sold out event in 2018.
Just as Southlake touches the lives of people beyond York Region, participants come from all over to join in. From South Simcoe, Durham and Dufferin Counties, Toronto and even as far north as Muskoka. Participants from 3 to 80 years old come to support leading edge health care for their family, friends and neighbours. We are humbled that Nature's Emporium has helped to raise over $1.5M for critical care equipment. Southlake relies on the generosity of the community to help replace the life-saving tools that have become worn from overuse, and to purchase new technology that helps improve patient care. The 2020 NE Run for Southlake originally scheduled for Sunday, April 26 was postponed due to Covid-19 and be offered as a virtual 5-day event from September 23-27
There's still time to register! Click here for more info: http://srhcf.convio.net/site/TR?fr_id=1501&pg=entry
More from #ThrivingWithNatures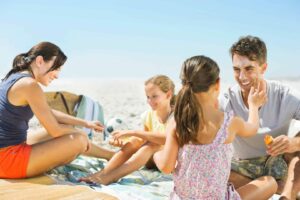 Nature's Emporium believes in an entirely natural approach to skincare.…
Read More