Welcome to part two of the Pantry Essentials blog!
When creating the original blog, it became apparent that many items can make up your pantry and be considered essential. The more you have on hand, the more creative you can get in the kitchen, and that's why we wanted to make the first blog into a series, so we can better equip your pantry with all things necessary for making delicious meals for you and your family! As we mentioned before, stocking up on all these things at once can be a bit overwhelming and expensive, remember that you can slowly build up your pantry by including some of the items below in your next curbside pick-up or when you're in the store next.
Another thing I like to do is check out the flyer in advance to see if any exclusive deals make buying these in bulk worth it! Some of these items have a very long shelf life, meaning stocking up on some of these items may be well worth it for your wallet at the end of the day.
As always, we've included some delicious recipes for your culinary pleasure if you feel inclined to try them out at home!
Dried Pasta
If you don't have dried pasta in your pantry already, I'd be shocked! It's an easy meal to whip up in a hurry. Who doesn't love a simple dish of spaghetti and meatballs? Besides the general love of pasta, it also has a great shelf life of at least 1-2 years, making it a great thing to stock up on when it's on sale.
Dried pasta options have come a long way since the invention of traditional durum wheat varieties, with lesser-known grain options more widely available now like, spelt, Kamut, quinoa, rice, corn and buckwheat. Most whole-grain pasta contains the right amount of fibre, manganese and selenium. However, the exact amounts will vary with each specific grain. Pasta is no longer just made from grains either! Popular options now include options made from chickpeas, lentils and beans, which increase the protein and fibre content significantly.
I often recommend having a lentil or chickpea pasta in the pantry to pair quickly with a prepared organic tomato sauce for a complete and tasty meal for the family to enjoy! When we think of pasta dishes, often our mind goes to a warm meal with tomato sauce. However, with the summer going, an excellent way of using dried pasta is to make and get creative with pasta salads! Check out the recipe below for a delicious Mediterranean Pasta Salad, tossed with an Avocado Vinaigrette!
Coconut Milk & Coconut Cream
Canned coconut milk can be used in both savoury and sweet dishes, so it's a no brainer that this is one of the ingredients in our Pantry Essentials Part II blog! Like many of the other pantry items we've discussed, coconut milk tends to have a long shelf life, upwards to 5 years if stored properly! It's another item I highly recommend stocking up on when it's on sale because of this.
Like other canned goods, be mindful of the brand you purchase, as you'll want the lining being BPA free, to reduce the exposure of endocrine disruptors. On a nutritional note, while coconut milk is high in fat, that isn't a reason to fear it. Saturated fat, in particular, has gotten a bad rap over the past few decades, but thankfully more research is coming out in favour of consuming a moderate amount of it. That's because saturated fat is responsible for making up your cell membranes, meaning consuming some saturated fat is essential for your cellular health.
With that said, don't be afraid to get creative with how you use coconut milk – while traditionally it's used in curries and Thai cuisine, it can be used in other sauces for meats, in soups and stews, as well as a dredge for breading things. On the sweet side, think of making ice cream out of it, or chocolate mousse, puddings or even brownies. We've incorporated it in two different ways in the recipe below – Thai Coconut Chicken and Coconut Rice – enjoy!
Rice
Rice is beyond a pantry essential in my house. We always have a few varieties on hand to keep it exciting and different ones make for better accompaniments depending on what you're cooking up and because of the long shelf life of upwards to 5 years and even longer! The exception to this is brown rice varieties since it has a higher oil content. We typically like to have basmati or jasmine in our pantry, as well as wild rice, but there are tons of others to choose from, including short grain, long grain, sushi rice, arborio rice and coloured varieties.
Like other grains, different varieties will have different nutrient values. However, this will be a minute difference, and most types of rice are high in calcium and B vitamins: thiamine, riboflavin and niacin.
We often think that rice is a boring side dish, but you can get creative in how you mix it up! Add different spices and vegetables to make it more flavourful and also help complement the main of your meal. For example, if you're making tacos, make Mexican rice with corn, jalapenos, black beans, tomato paste and paprika, or flavour it with coconut milk (as seen in the recipe above) for Thai cuisine.
If you're a vegetarian or vegan, think of adding beans and lentils to it, which will create a complete protein profile in the process. Rice can also be a great addition to soups and casseroles and it can even be made into a rice pudding dessert!
Beans
Beans, beans are good for the heart, among many other health benefits and very similar to lentils. They too are a good source of protein with approximately 16.5g protein per cup and also contain high amounts of fibre and iron, as well as folate, which is important for creating healthy blood cells.
There are two options for beans when it comes to stocking your pantry; canned or dry. Both generally provide the same nutrition and have the same shelf life of 1-2 years, but when choosing canned, always choose Bisphenol-A (BPA) Free. BPA is a known endocrine disrupter and not suitable for our overall health.
Our Nature's Emporium brand does not use BPA and is available in your 3 basic varieties of black bean, kidney bean and chickpeas. The benefit of purchasing canned beans is they are already pre-cooked and make for quicker preparation of meals.
If you opt for dry beans, the preparation time will take longer as they need to be soaked and cooked. The length of time will depend on which type of beans you chose as there are many options available: black, kidney, chickpeas, pinto, navy, great northern, cannellini, fava, lima, adzuki and soybeans. They too can be incorporated into many dishes such as chilis and soups, vegetarian burgers, or be the main ingredient in a salad.  
Protein Powder
While you may not think of protein powder as a pantry staple, it certainly is in mine! I like to have it on hand for the ease of getting in enough protein during the day, especially if I'm in a rush in the morning and need to create a quick meal on the go! Like many other foods in the health food industry, protein powder is not what it used to be and doesn't only come in the whey form anymore. There are now many vegan options available too, with different formulas made from hemp, rice, quinoa, pea and even seaweed! Not to mention, just about every brand has multiple flavour options from your regular vanilla and chocolate, to fruity flavours and more, so you're bound to find one that you enjoy!
The protein content will vary in each variety, with the low end being around 10g and an upward level of 30g. Extra nutrients available will be dependent on the type of protein used and if you make the formula into a meal replacement or only just a protein substitute. (If you want to learn more about the options available, be sure to talk to one of our educated supplements team members who can help give you the low-down and answer any of your questions). The approximate shelf life of a protein powder is nine months to 2 years.
While protein powder is typically used in smoothies, it can be incorporated into baked goods as well, and we've provided you with a delicious Blueberry Crumble Bar recipe for you to use to start experimenting with protein powder at home!
Canned/Jarred Tomatoes – Tomato Sauce, Diced, Whole and Paste
Making sure you always have a few cans or jars of tomato sauce, paste or diced/whole tomato varieties in your pantry is pretty essential for whipping up a lot of great meals including but definitely not limited to: pasta dishes, pizza, chilli, casseroles, sauces, soups and so much more! While fresh is usually best when we talk about food, when it comes to certain aspects of a particular food, canned can prevail! For instance, tomatoes are known to be rich in lycopene and there are studies that show lycopene is more bioavailable in canned varieties of tomatoes versus the fresh counterpart.
Similar to lycopene, canned varieties of tomatoes also have higher amounts of iron and calcium compared to fresh. Canned tomato products also contain a good amount of Vitamin C, something we can't get enough of when we are worried about our immune health!
Be sure to pick up a few cans of tomato products the next time you're doing a curbside order or heading into the store, especially if they're on sale since they too have a lengthy shelf life of 1-2 years!
That's it for Part II of Pantry Essentials! Hopefully, you were able to take away some more ideas of what you can use that's currently in your pantry in new and exciting ways or found new items to fill up your pantry with! 
More from #ThrivingWithNatures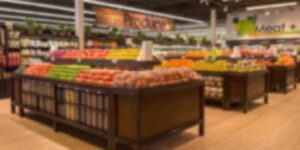 The Canada Food Price Report was recently released, and it…
Read More