Healthy gift baskets are a great way to show your love this holiday in the most wholesome way. The great thing about gifting healthy snacks – it's trending and educational. Other than choosing to wrap predictable standard chocolates year after year, why not introduce your friends and family to healthy snacks that aren't so boring after all? Plus, the value of what they get is a reaction you won't want to miss out on.
Here at Nature's, our elves have been working away to curate healthy gift baskets by handpicking the most desired snacks, treats, and teas. We know that there is a basket with someone you love's name on it. Show just how thankful, grateful, and blessed you are to have your friends and family with a basket full of healthy options!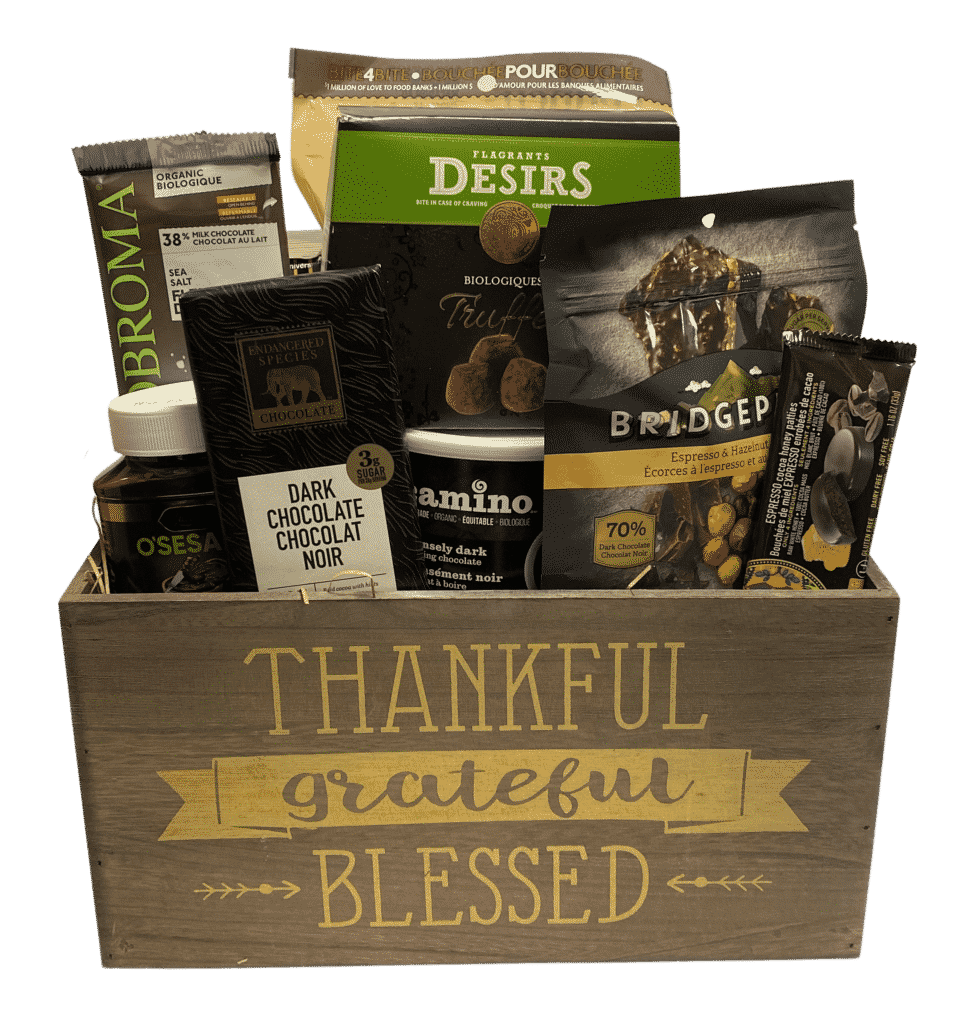 Moment of Bliss – $79.99
Who said self-care only fell into the health and beauty categories? Gift the Moment of Bliss Basket to one of your coworkers or one of your girls to indulge in! This basket has all of the yummiest goodies minus all the guilt.
*Please note: there could be some variations based on product availability. Total value of baskets will not be affected by variation.
Sprucewood Chocolate Chip Shortbread
The magic of Belgian chocolate melts in your mouth for an experience best served with your favorite tea or coffees!
Stash – Chocolate Mint Oolong Tea
Stash has made a tea experience that most of your giftees probably haven't tried yet. The delicious flavors of mint and chocolate make this a warm and cozy drink – and it's calorie-free!
Nature's Path – Love Crunch Macaroons
All of the decadent crunchy granola clusters in these Love Crunch Macaroons feature coconut and dark chocolate chunks that will have your giftee satisfied down to every bite.
Flagrants Desirs – Truffles
Bet your giftee doesn't know what organic truffles taste like – but it's not like they would know the difference anyway! This box of truffles will be a hit at any time of day!
Camino – Hot Chocolate
Get your giftee right into the Christmas spirit with the memories of hot cocoa. This makes a great pairing with everything else sweet and satisfying.
Endangered Species – Dark Chocolate Bar
Indulge in this velvety and smooth dark chocolate from Endangered Species that's only 180 calories per serving! Your giftee will surely enjoy all 88% of this dark chocolate treat.
Zazubean – Chocolate Cocoa Nibs Bar
Your giftee will be super excited to be introduced to their first plant-powered chocolate bar. What's in this bar you ask? Nothing but cocoa, raw cane sugar, cocoa butter, maca, and vanilla.
Bridgepeak – Espresso & Hazelnut Bark
For the ones who are mindful about their sugar intake but can't seem to get rid of their sweet tooth, this low sugar dark chocolate bark will do the trick. Bridgepeak combines 70% dark chocolate, fruit, nuts, super grains, and seeds for just the right flavor profile!
OSesame – Dark Chocolate Spread
Know anyone sensitive to dairy products? This dark chocolate spread is made just for them! OSesame made this dark chocolate spread vegan and sugar-free. Their secret: Humera Seed!
Heavenly Organics – Honey Espresso Patties
The clever trio of honey, organic espresso, and cocoa butter is the science behind this 100% organic confection. These Heavenly Organics Honey Espresso Patties will complete your giftees' holiday festivities!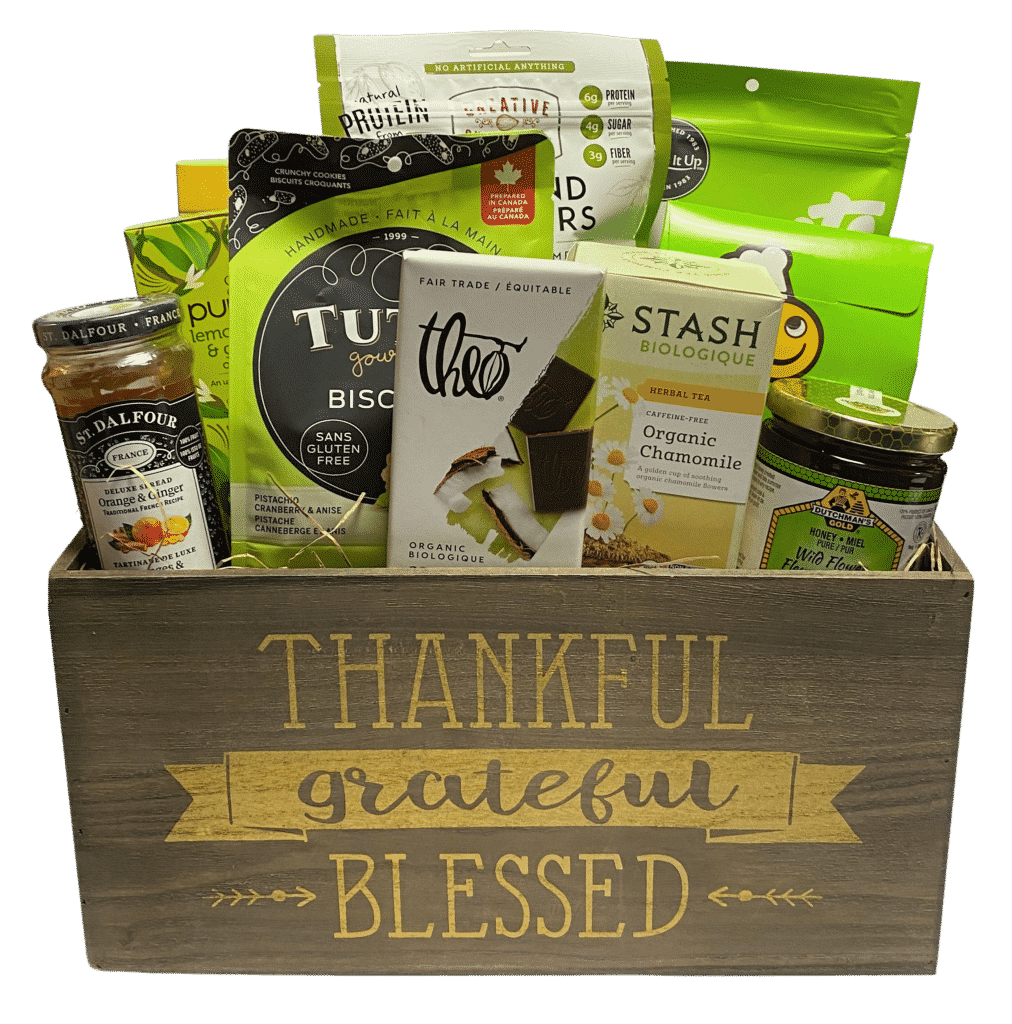 Afternoon Interlude – $99.99
Nature's Emporium's Afternoon Interlude has your mom's name all over it. Our picks were intentionally curated for those who relax or recharge during their afternoon teas. The harmonious mix of sweets and teas make for a pleasant afternoon indeed!
*Please note: there could be some variations based on product availability. Total value of baskets will not be affected by variation.
Pukka – Lemongrass & Ginger Tea
This Lemongrass and ginger tea is high in antioxidants to take you through the winter months. The lemongrass gives a refreshing taste with pleasant spicy notes in the ginger blend.
Tutti Gourmet – Pistachio Cranberry Biscotti
Proud to be Italian, Tutti Gourmet brings you authentic pistachio cranberry biscotti to share or hide and keep all to yourself.
Tazo – Green Ginger Tea
Tazo's Green Ginger Tea is best served on a snowy day spent inside. Your giftee will be well prepared with this new addition to their pantry.
St Dalfour – Orange & Ginger Spread
This orange and ginger spread is a special experience to gift someone who's always looking for new things to try. Encourage them to incorporate it on some toast for breakfast!
Theo – Coconut Chocolate Bar
Theo gives you a round-trip vacation in their coconut chocolate bar. This dark chocolate delight is paired with coconut and tropical flavors to reminisce hot sunny weather.
Cookie it up – Butterscotch Cookies
Cookie it up made butterscotch cookies for absolutely everyone to enjoy because it's gluten-free! It's just the right blend of sweetness and a delightful pinch of salt!
Freeyum – Honey Apple Baked Bars
Enjoy wholegrain rolled oats with apples, sunflower seed, vanilla, and cinnamon. These Honey Apple Baked Bars are topped off with pure maple syrup and honey to make for the most satisfying snack!
Dutchmans Gold – Wildflower Honey
Dutchman's gold flaunts their pure raw honey's full-bodied flavor. Be ready to enjoy in teas or on a fresh loaf of bread!
Rustic Bakery – Rosemary Sourdough Crackers
Rustic Bakery's Rosemary Sourdough Crackers give you a perfectly salty crisp. These taste oh so yummy when eaten with all your favorite soups!
Creative Snacks Co – Almond Clusters Chia Hemp
Creative Snacks developed super tasty Almond Clusters with Chia Hemp that you can eat alone or in your yogurt parfaits.
Cookie it up – Milk Chocolate Shortbread
What a great way to encourage high tea time! Your giftee will love Cookie it up's Milk Chocolate Shortbread on their table with their tea of choice!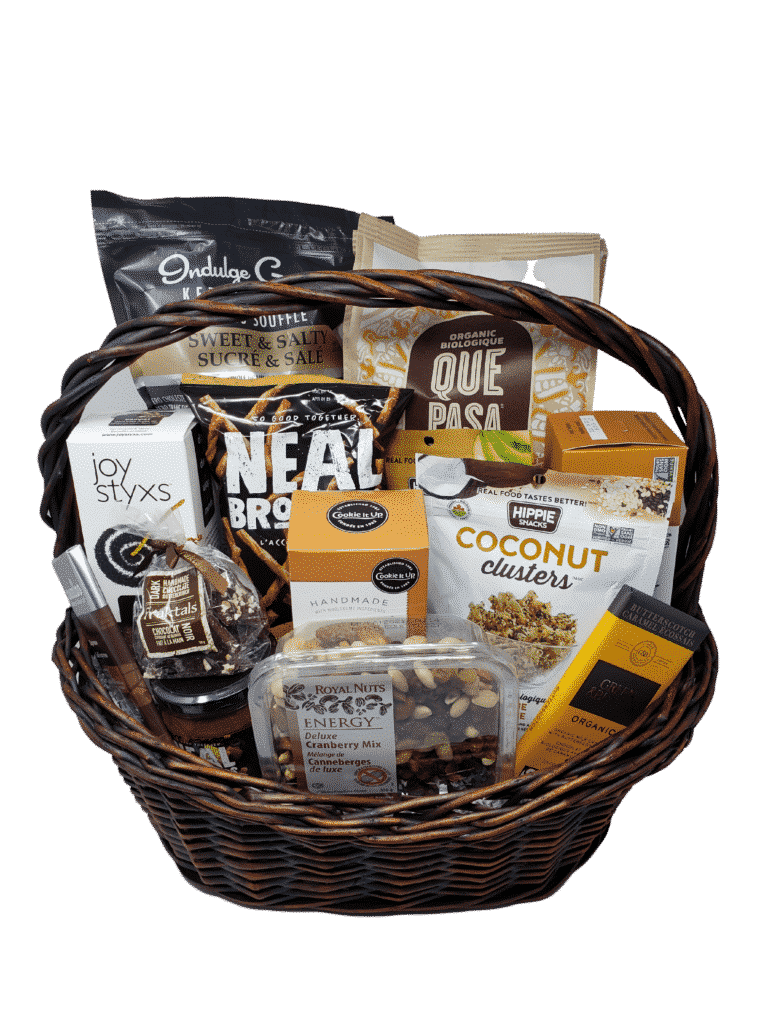 Bountiful Bites – $109.99
Our Bountiful Bites Gift Basket was inspired by someone like your dad, brother, or uncle. Their next game stream will be made even more exciting with a mix of healthy snacks and treats that they won't get in trouble for! Make anyone's game night next level with this basket of fun!
*Please note: there could be some variations based on product availability. Total value of baskets will not be affected by variation.
Ace Bakery – Olive Oil Crostini
The appetizer ideas are endless with Ace Bakery's Olive Oil Crustini. Your giftee will be inspired to make a holiday charcuterie board!
Que Pasa – Tortilla Chips
Que Pasa's Tortilla Chips are the solution to any game night in. Give your giftee another bag to stock up on, who knows, their next game might even be tonight!
Indulge Gourmet – Sweet & Salty Popcorn
This low-calorie gourmet kettle corn is sweet, salty, and crunchy all at the same time! Who would ever say no to this?
Theo – Orange Chocolate Bar
Something warm about orange chocolate bars just screams the holidays. Your giftee will absolutely love these vegan and organic bonbons.
Cookie it up – Ginger Molasses Cookies
These extremely yummy Ginger Molasses Cookies are even more special at this time of year! This comforting flavor will be like you have a fireplace wherever you eat this.
Neal Brothers – Honey Pretzel Braids
Neal Brothers' Honey Pretzel Braids will make your giftee want to call it a movie night… that's for sure!
Neal Brothers – Salsa
Neal Brothers produced your tortillas, kettle chips or even taco's best friend in a jar. Some good ol' salsa!
Fraktals – Dark Chocolate
Nothing like dark chocolate that you can snack on that much longer because the calories on it say you can!
Lesley Stowes – Rainforest Crackers
Lesley Stowes puts a luxe gourmet spin on their Rainforest crackers. Your giftees will enjoy this with a bottle of wine and perhaps, some brie.
Royal Nuts – Mixed Nuts
Royal nuts mixed nuts has everyone on board: Almonds, Cashews, Filberts, Brazil Nuts, and Pecans. These mixed nuts are dry-roasted without oil which also makes them perfect for baking!
Hippie Snacks – Cauliflower Crisps
For your giftees that ate too much during Christmas dinner but still want some chips – these Hippie Snacks Cauliflower Chips are a great crispy alternative. It's light and healthy!
Elan – Dried Mango Slices
Something clever to throw on the same table as your nuts bowl, the Elan Dried Mango Slices will give a great fruity pop to your taste palettes.
Camino – Dark Chocolate Bar
The Camino Dark Chocolate Bars are fair traded, organic, and made in Canada! Give the gift of health and sweetness in a chocolate bar this holiday.
The Good Bean – Chickpea Snacks
These Good Bean Chickpea snacks are roasted chickpeas that can be eaten alone, on salads, and even on your favorite meals!
Theobroma – Energy Bites
Both healthy and delicious for all, Theobroma brings you Energy Bites. These crunchy snacks are peanut-free, vegan, and organic.
More from #ThrivingWithNatures