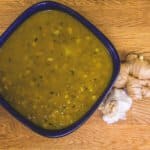 Print
Curried Mungbean Soup
A true warming winter dish, creamy and rich, with added anti-inflammatory benefits of turmeric.
In a medium pot, over medium heat, sauté onions, garlic, ginger and cumin seeds in coconut oil for 10 minutes, stirring frequently.

Add the remaining ingredients, increase heat to medium high and bring to simmer.

Lower heat to medium low and simmer for 20 minutes.

Enjoy with a piece of naan bread or on its own.