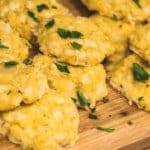 Print
Baked Cauliflower Latkes
A low carb alternative to the traditional fried potato latkes, that make a great appetizer or snack any time of day!
Preheat your oven to 375F.

In a large mixing bowl, roughly mash up the boiled cauliflower.

Combine well with the remaining ingredients and form into desired size latkes.

Place fritters on a parchment lined baking tray and bake for 25-30 minutes, or until golden brown.