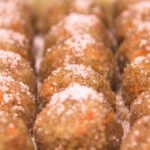 Print
Apple-Carrot Detox Balls (Gluten Free, Vegan)
These detox-friendly dessert balls are packed with antioxidants, fiber, vitamins and healthy omega 3 fatty acids, leaving your sweet tooth satisfied and guilt free!
Using a fine mesh strainer or cheesecloth, squeeze all of the juice out of grated carrots and apples and place into a separate bowl. Drink the juice or use in a smoothie.

Add the remaining ingredients to the ground apples and carrots, leaving out only xylitol granules for rolling.

Combine well by hand, roll into 25 equal size balls, roll into xylitol granules and refrigerate for a few hours or ideally overnight before serving.
Each Serving Contains:
103 calories; 2 g protein; 6 g total fat (0 g trans fat); 12g total carbohydrates (7 g of sugar); 9 mg sodium