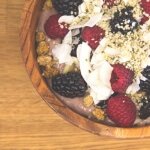 Print
Featured Recipe: Superfood Acai Bowl (Dairy Free, Antioxidant Rich)
This rich and creamy, antioxidant packed vegan smoothie bowl makes a great breakfast dish or a healthy dessert - dairy free, fibre rich and delicious!
Suggested Toppings
Dried Mulberries

Dried Cherries

Slivered Almonds

Fresh Raspberries

Fresh Blackberries

Hemp Seeds

Coconut Shavings
Blend all of the smoothie ingredients in a high speed blender and pour into bowls.

Top with desired toppings and enjoy fresh!
Each Serving Contains (Smoothie Only):
143 calories; 1 g protein; 9 g total fat (0 g trans fat); 21 g total carbohydrates (16 g of sugar); 11 mg sodium